Best Roof Rack Baskets 2021
Road trips are awesome – there is no denying that. But that's if you are able to carry all your luggage. With people and pets in the car, space can be, and is usually, an issue.
The easiest solution to fix that issue is by attaching a roof rack basket to your car. Rack baskets are an ingenious way to free up your interior space while giving you extra space to store all your gear safely at the rooftop of your vehicle.
That said, when looking to buy one for your safari, there are a few things you should keep in mind. For example, the size. Because, ultimately, a roof basket is only as useful as the amount of extra space it can offer. Besides the size of the rack, other things you'll need to consider include the security the rack offers, as well as the impact on your car's aerodynamics.
To help simplify your shopping, below we've reviewed the best roof rack baskets to help you choose the one that perfectly meets your needs.
| | | | | |
| --- | --- | --- | --- | --- |
| | Best Choice | Runner Up | Budget-Friendly | |
| Material | Steel | Steel | Steel | |
| Brand | MAXXHAUL | Rhino Rack | CargoLoc | |
| Item Weight | 25 Pounds | 35 Pounds | 0.01 Pounds | |
| Package Dimensions | 46″ x 36″ x 4-1/2″ | 47 inch x 35 inch x 8 inch | 9.8 x 34.5 x 17.5 inches | |
| Capacity | 150 lb | 165lbs | 150lbs | |
| | | | | |
| | Buy on Amazon | Buy on Amazon | Buy on Amazon | |
Last update on 2022-12-05 / Affiliate links / Images from Amazon Product Advertising API
10 Best Roof Rack Baskets For Your Car
1. MAXXHAUL Roof Rack Basket – Best Value
Maxxhaul is one of the well-known manufacturer and distributor of towing and truck accessories. According to the company's homepage, they are specialised in truck accessories such as hitch balls, couplers, heavy duty towing, bicycle racks, trailer accessories, cargo carriers, and tow bars.
It therefore comes as no suprise why their roof rack basket makes it to the top of our review list. It comes with a few unique features. Including, a universal mounting system, easy installation, and strong steel construction. The company also says that the frame is powder coated to resist rust.
Features
Rust resistant finish to resist corrosion
It comes with rubber caps to help protect your cargo and the U-Bolts
The U-Bolts provide for simple installation and can attach to most cross bars
Provides instant cargo space for any vehicle that has cross bars
It's dimensions are 38.2 x 19 x10.6 inches, and is designed to haul up to 150 pounds.
Pros
Designed to last thanks to a steel construction
Easy to assemble and install
It is resistant to rust
Cons
There is no styrofoam in the packaging, just a bubble wrap to protect the finish
2. Rola Roof Cargo Basket
Rola says it is an industry leader when it comes to innovating car cargo accessories. It is Australia's premiere vehicle outfitter of cargo and rack management products for approximately thirty years now.
It says it has designed this roof cargo basket to fit full size cars, vansm and sport utility vehicles that have existing roof bars.
With a capacity of up to 130 pounds, it can help free up valuable cargo space by securing it at the rooftop, and allowing for a more relaxed, comfortable travel experience.
Features
The construction is heavy duty steel. This means that it will last a very long time.
Mounting hardware is available, and features adjustable brackets to make sure it fits most cross bars.
It is designed to be scratch resistant and the rough-coat finish will ensure protection against the elements.
It's dimensions are 48 x 37.5 x 5 inches, and can carry up to 130 pounds.
Pros
Bars are thick and durable
It won't interfere with the hatch door opening
High quality welds and coating
Quick, easy installation
Cons
The screws are moulded plastic
3. Rhino Cargo Basket Roof Rack
Rhino-Rack is a pretty well known manufacturer of basket roof racks. In fact, according to the company, it has been doing so since 1992. And just like Rola, Rhio-Rack is an Australian company.
If you are a sun-seeker and nature lover, the company says you'll find this safari rack an amazing accessory.
So, what unique features does it bring to the table? It features sleek, stylish and rugged aesthetic, has high rails for added security, it is lightweight, it is powder coated to avoid rusting, and fits both Euro- and Vortex bars.
Its dimensions are 32 x 9 x 43 inches, and can carry up to 165 pounds.
Features
With a carrying capacity of up to 165 lbs, it has a high carrying capacity.
The steel construction is heavy duty and of high quality. The durable black powder coating also helps shiled the frame against elements.
Features an aerodynamic wind deflector release.
Installation is easy. There are only two pieces.
It is suitable for all types of vehicles, whether vans, cars, or SUVS.
Pros
The product is sturdy and well built
Features a nice powder coat finish
An LED light bar (30 inches) can fit perfectly by removing the front plastic air panel
Cons
It can get a bit noisy on the roof when it is windy
4. Tyga Heavy Duty Roof Rack Cargo Basket
This cargo basket also made it to our list of the best roof rack baskets for a reason. It is designed to fit most vehicles with roof top bars, its construction is heavy duty, and reduces drag while cutting down on noise.
Features
The manufacturer believes so much in the quality of their product so much so that they offer it with a 3 years hass-free warranty.
Assembly is easy, as only two pieces need construction. It also comes with mounting hardware.
The frame is thick and splid, and is rust-resitant thanks to e-coating. Also, the many tie-down locations on the frame help make securing gear with cargo nets easy.
Its dimensions are 47.25 x 36.6 x 5.9 inches, and provides a storage capacity of up to 150 pounds.
Pros
The basket is secured by tamper-resistant hex bolts as opposed to those little hand-knobs most roof baskets feature
There is flexibility in mounting options
Is rust-resistant thanks to the rubber gasket bands that slide over the joints to keep water out of the tubing
It is aerodynamic to ensure minimal impact on a car's fuel economy
Cons
Must be removed before auto car wash
Can be a bit noisy, particularly when it is windy
5. Reese Explore Roof Top Cargo Basket
The Reese Explore roof top cargo basket is another option to consider when looking to embrace the outdoors without leaving any gear behind. The company says it is durable, rust- and scratch resistant, and the sleek, angled front wind shield ensures optimal aerodynamic coefficient.
Features
Will fit most vehicle's cross bars, whether aero, square, round, or factory installed.
It is designed to minimize as much drag as possible thanks to the sleek, angled front windshield.
The steel construction is strong, heavy-duty, and high quality. The frame is also both rust- and scratch resistant.
Its dimensions are 44 x 35 x 4.25 inches, and is designed to carry luggage weighing up to 125 pounds.
Pros
Easy assembly
The mounting hardware us sturdy and is easy to use
Made to last
Cons
The "weatherproofing" may not be effective against rain due to the rubber sleeves
6. Thule Canyon Roof Rack Basket Cargo Carrier – Premium Quality
Thule has been around for quite sometime now, and is without a doubt one of the most respected brands when it comes to transporting things safely, easily and in style.
The Thule basket cargo carrier comes loaded with some unique features. Including, low drag coefficient, versatile mounting, and a stylish and functional low-profile design, with tapered side walls for easier loading and unloading.
Features
Fits a broad range of vehicles, and comes with a versatile mounting hardware.
Features a low drag coefficient thanks to wind fairing that comes included to help with better airflow over your cargo.
Loading and unloading is easy thanks to a wedge-shape low profile design that combines both style and function wuth tapered side walls.
Its dimensions are 41 x 39 x 5 inches, and can carry a load of up to 150 pounds.
Pros
Just like other Thule products, it is heavy duty and long lasting
Installation is easy
Sturdy and low profile
Cons
You may hear whistles. But you can quickly solve that by putting gasket sealer on the connecting parts.
Instructions could have been better
7. CargoLoc Luggage Basket for Roof Racks – Budget-Friendly
CargoLoc is also another car top basket that has been designed to ensure your enjoy your outdoor experience without thinking about the storage of your gear.
Just like the previous options, this one comes laden with some unique features. Including, lightweight construction, durable steel frame, easy installation, and weather resistant.
Features
It is easy to install and remove
It is lightweight.
Its dimensions are 9.8 x 34.5 x 17.5 inches, and can haul loads of up to 150 pounds.
Pros
You can request a warranty from the manufacturer by calling their customer service
It is a relatively economical option
Installation is easy
Cons
8. CargoLoc 2-in-1 Safari Basket
CargoLoc also provides a 2 in 1 dual mount. This means that you can mount this safari basket on either the roof or the hitch area of your car. Talk of being versatility!
Some of the interesting features this product comes with include steel construction, easy installation, and limited lifetime warranty.
Features
It features a super sturdy steel construction, there is no doubt you will be using it for years to come.
A steel construction also means that it is rust-free.
Installation is easy thanks to an easy-to-follow manual.
Its dimensions are 21.06 x 6.5 x 24.8 inches, and can haul up to 150 pounds for the rooftop basket carrier and an extra 350 pounds for the hitch carrier variation.
Pros
Installation is easy. It can be done in less than half an hour.
Both variations are sturdy and high-quality
Cons
You may notice the hitch accessory wobbling a bit
9. All Goodly Universal Roof Baskets for SUV
All Goodly says this universal roof basket is meant for the outdoor adventured lifestyle. It can help you anything you can think of, whether cargo bags, camping equipment, or just any other extra luggage.
Some of the unique features it comes with include custom wind fairing, easy installation, heavy-duty and weather-resistant steel construction, and plenty of tie downs on the side rails and bottom metal bars.
Features
Features custom wind fairing. This is meant to reduce drag and thereby minimize wind noise and vibration.
The installation is easy. All that is required to install it on a vehicle's cross bars are 4 universal U-bolts.
Its dimensions are 43 x 39 x 6.5 inches, and can load up to 250 pounds of cargo.
Pros
High load capacity
Sturdy, stylish and easy to install
Cons
The smell can be a nuisance in the first couple of days
10. Yakima Rooftop Cargo Basket
Yakima is one of the world's leading brand of car luggage accessories, including hitch racks, bike racks, and roof racks.
This cargo basket ranks among out list of the best roof rack baskets for a reason. It is sleek and burly built, features an aerodynamic look, has a quick release mounting system, and is super simple to install.
Additionally, it includes adjustable accessory bars to help make it easy for anyone looking to add boards, boats, and bikes on top.
Features
Comes with universal mounting hardware that can work with RoundBar, CoreBar, JetStream and most factory crossbars.
It is made from strong, durable steem that will ensure it lasts for many years to come. The integrated fairing will also help reduce drag and wind noise.
Adjustable accessory bars are designed to pin in bulky items.
Its dimensions are 51.8 x 31.5 x 7.5 inches, and carries a load of up to 150 pounds.
Pros
The design is stylish
It is sturdy and the locking mechanism is easy to adjust
The installation is easy
It is quiet even at high highway speeds
Cons
When reaching on top of the roof, you may find te latches to be a bit difficult to work with
Benefits of Buying a Safari Roof Rack
Buying a safari roof rack provides a myriad of benefits to those seeking outdoor adventure. The following are some of the benefits.
Ability to carry more cargo: All vehicles are limited when it comes to how much cargo they can carry. It is also not uncommon for even large trucks that have 8-foot beds to run out of cargo room. Having a cargo carrier helps expand your vehicle's space without the need to make any significant modifications to your vehicle.
Ability to carry awkward-sized items: Common cargo hatches and trunks are ideal for carrying small-to-medium items or the ocasssional grocery shopping. When it comes to carrying things like bikes, skis, kayaks, or other similarly sized items, carrying them can present a challenge or even become impossible. On the other hand, with a rooftop cargo basket, such challenges are eliminated.
What to consider when choosing a good car safari roof rack
Regardless of the car you drive, whether a jeep tj, a ford excursion, a jeep wrangler, mini cooper, ford focus, honda crv, a jeep cherokee, santa fe, or a 4runner, there are a few considerations you have to make when choosing a roof rack for your safari.
You have to consider:
Rust Resistance: This is an important consideration as it impacts on the durability of the cargo basket. All cargo baskets are made of metal, and as you probably know, metals rust. Therefore, look for a basket that is rust-resistance; or alternatively, make sure to apply a rust-resistant coat yourself if you notice the one you've bought is beginning to rust.
Dimensions: Not all cargo baskets are created the same. Each varies depending on what type of vehicle it is created for. What you choose should therefore be dependent upon the type of car you drive, as well as the kind of luggage you wish to be carrying it with.
Mounting Style: Generally, there are three mounting styles: front, rear, and rooftop attachment. The choise is up to you. But, ideally, choose one that will perfectly match both your needs and driving requirements.
Capacity: Cargo baskets vary greatly in how much cargo they can haul. But generally speaking, expect most baskets to haul about 300 pounds of weight. Heavy duty ones are also capable of hauling up to 600 pounds.
That said, rooftop baskets are ideally intended to carry bulky yet lightweight items. If you are looking to haul relatively heavy items, then consider hitch rack carrier instead.
Aerodynamics: Anything you add on the exterior of your car will certainly have an impact on your car's overall aerodynamics, reducing the fuel economy values you get. That's why it is important to choose a cargo basket that has been designed with aerodynamics in mind.
Aerodynamically-designed baskets will usually have pointed noses and sleek curves to help in slicing through the air.
Key Takeaway
For its stylish design, versatility, durability, and rave customer reviews on Amazon, the Maxxhaul roof rack basket earns our top spot. With the features it provides, it is hard to beat what this rooftop carrier offers.
If you are tight on the budget, then please consider CargoLoc basket rack. The simple design will still offer you lots of storage and convenience to make those overland adventures memorable.
Sale

MaxxHaul 70115 46″ x 36″ x 4-1/2″ Roof Rack Rooftop Cargo Carrier…
Instant cargo space for vehicle with cross bars; Basket size – 46″ x 36″ x 4-1/2″; Easy to assemble and install…
$129.99 $110.49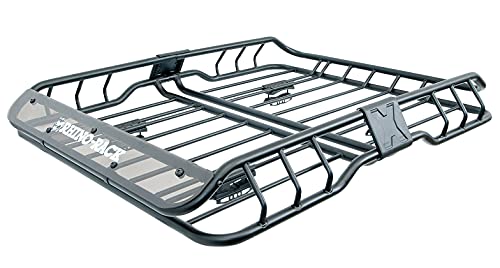 Rhino Rack XTray Small Roof Mount Cargo Basket, 43 x 32 x 9…
EASY ASSEMBLY: Easy Assembly with 2 Piece Construction;; DIMENSIONS: External Dimensions: 47 x 35 x 8 Inches…
$309.00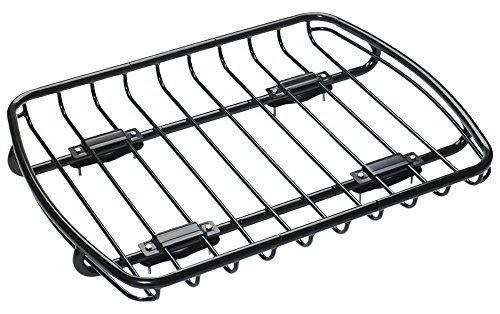 CargoLoc 32531 Rooftop Cargo Basket,Black
44″ x 34″ x 4.5″ Steel Cargo Basket – 150 lbs
$108.00
Last update on 2022-12-05 / Affiliate links / Images from Amazon Product Advertising API
Other Options Worth Considering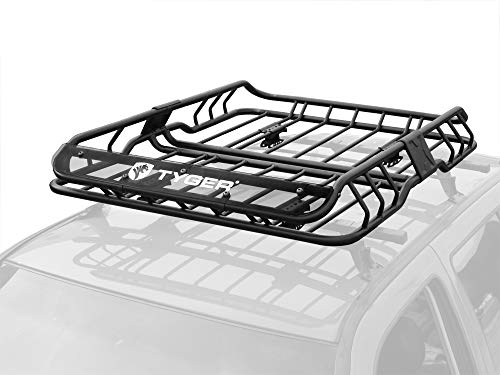 Tyger Heavy Duty Roof Mounted Cargo Basket Rack | L47.25 x W36.6…
Frame Dimension: L47.25″ x W36.6″ x H5.9″
Stylish design makes your vehicle stand out on the road! Mounts to any existing vehicle roof rail cross bars to…
Heavy duty 1 inch steel frame tube with black E-Coating for rust resistance and provides many tie-down point…
$199.00
Buy on Amazon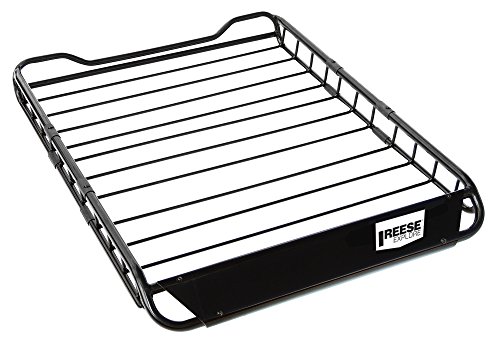 9 Reviews
Reese Explore 1040900 Steel Rooftop Basket, Black
Quality durable Steel Construction with a rust resistant finish
Sleek aerodynamic design with angles wind shield resists drag
Adjustable brackets fits most Factory and aftermarket Cross bar styles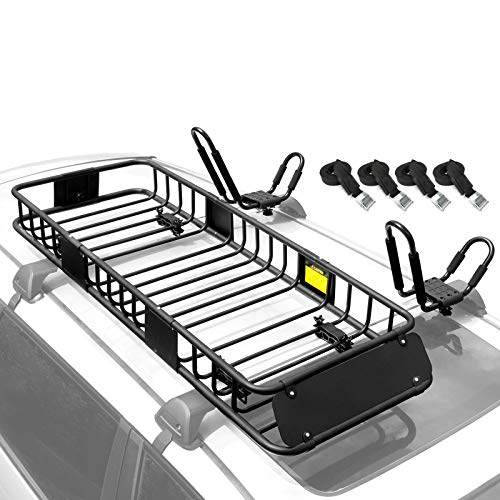 73 Reviews
XCAR 64″x23″x6″ Roof Rack Rooftop Cargo Basket + Kayak Rack…
Sale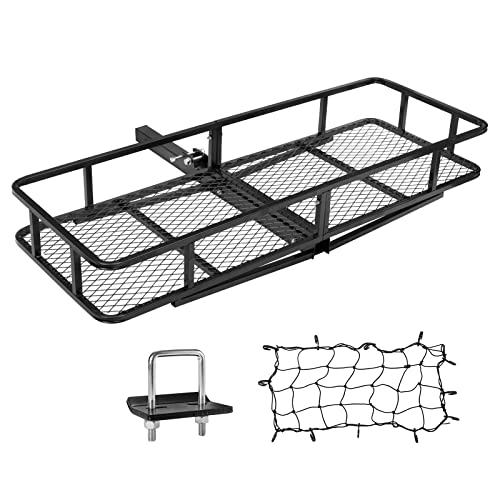 480 Reviews
FIERYRED Folding Cargo Carrier Luggage Basket Trailer Hitch Cargo…
✓CARGO CARRIER HITCH MOUNT BASKET KIT – Includes a cargo net and bonus hitch stabilizer to ensure that any type…
✓DURABLE – Heavy-duty tubular construction and durable blank powder coat keep carrier intact always, Strong…
✓EASY TO INSTALL – Package includes all mounting hardware and customized tie-down points for users'…
$178.99 $129.99
Buy on Amazon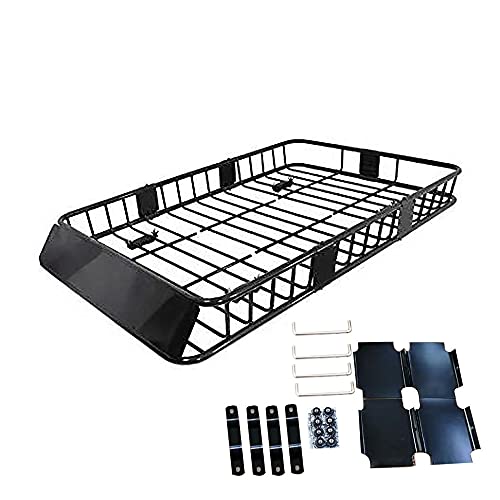 labwork 64 inch Universal Roof Rack w/Extension Cargo SUV Top…
The roof rack you can store hauling extra luggage, camping equipment, cargo bags and more.
Built for the outdoor adventurers lifestyle. Easy to install with 4 universal U-bolts.
The bottom metal bars and side rails provide plenty of tie down points.
$145.68
Buy on Amazon
Last update on 2022-12-05 / Affiliate links / Images from Amazon Product Advertising API
---
View More
3 Best Leather Cleaners For Car Steering Wheels 2021
---
View More
3 Best Sunflower Steering Wheel Covers 2021
---
View More