Best Car Massage Chairs 2020
If your daily driving involves long distances and you don't have comfortable seats, then it's likely you will start experiencing backaches, neck pains, shoulder muscle tension, and even a numb feeling on your bum sooner or later.
Enter car massage chairs. Car massage chairs help keep the blood circulating to and through the tissies which helps to reduce stiffness. In addition, they are designed to fit any size of car seat and person.
Most car massagers are target-oriented based on where you want to have a massage.
In today's blog, we've reviewed the 7 best car massage chairs to help you choose the right one for your needs.
7 Best Car Massage Chairs
1. Sotion Car Massage Chair- Best Value
Are you looking for an invigorating massage that is targeted to your shoulders, back, waist, hips, and thighs? If you are, then look no further than Sotion car massage chair.
It is versatile and you cannot only use it inside your car, but you can also it in the office and in the comfort of your own home.
Features
It is made from a quality and durable material. The design features soft foam bubbles for both comfort and posture correction.
It is convenient and portable. It can fit in an office chair, home chair and, of course, a car seat. The only thing you need to do is fix the straps and plastic hook onto a chair. And when you're done with the massage session, all you have to do is fold it away for storage.
It is able to target specific spots in a simultaneous , all-inclusive massage thanks to 10 built-in motors.
Heat and massage are independent of each other. In other words, it is possible to use heat with ot without massage. Furthermore, with the wired remote, you can turn each vibration position ON or OFF.
You are able to choose from 5 massage modes and 3 speeds to meet your own individual preferences.
The package includes 5 things: a packing box, user manual, car adaptor, UL home adaptor, and a massage seat cushion.
Pros
It is about 29″ tall, enough to fit most people
Heats up nicely and vibrates well on one's things and back
Has many settings to target various pain areas
It is portable and lightweight and will fit any car seat
Cons
• There are no rolling balls, as this is a vibration back massage cushion only and not a shaitsu kneading rolling massager. If you are looking for one with rolling balls, please click here.
2. Comfier Back Massager for Cars
Comfier is committed to developing various massage products. Including, massage mats, massage cushions, neck massagers, foot massagers, and back massagers.
This back massager for cars comes with several unique features. It is a universal fit, it's fitted with an overheat protection thermostat controller, has fast heating capability, and features 10 vibrating motors for a soothing gentle massage.
Features
It is designed to fit cars of different sizes. Also, it can fit any home or office chair.
The manufacturer is so confident in their product so much so that they offer 100% money back guarantee. So, if for any reason you aren't satisified with how it's working, you can return it back within thirty days and get a full refund.
It is safe and reliable. It comes with a thermostat controller that is thoroughly tested for safety and quality control. Also, each heating pad has an automatic shut off feature for optimal safety.
Has customizable settings to ensure you target specific pain areas. The different areas that it allows you to target include the neck, and upper and lower back. And, to ensure you get the best massage, it has 3 variable massage intensities and 5 programmable modes.
The package includes 5 items: a packing box, one user manual, a car adaptor, one home adaptor, and one vibration massage cushion.
Pros
Features a lot of pressure points
Has soft tiger-fur like padded texture on the front surface to make it comfortable for seating over long distances
Has different settings to ensure it fits different needs
Cons
This is not a shaitsu massager with roller balls
3. RENPHO Massage Chair- Premium Option
The Renhpo car massager made it to the list of our best car massage chair for a reason. It is universal in size, comes equipped with an overheat protection thermostat, offers 5 levels of heating options, and has some fans to help dissipate heat quickly.
Features
With a 12V output voltage, this car massager is designed to fit most cars, SUVs and MPVs.
It is safe and reliable. It comes equipped with a thermostat to help cushion you and your family from overheating.
It features two vibration motors, 2 heating pads, and 5 levels of heating options.
It can quickly heat up. According to the manufacturer, this car seat massager can heat up in just three minutes.
It has five levels of cooling options to help circulate cool air via vents from the seat cushion.
Available in three colors: beige, black, and gray.
Pros
Features an anti-slip bottom surface
Has breathable material to allow air flow and help keep you cool and calm under pressure
The adaptor provided has two USB inlets so you can still use while getting those relaxing massages
Quiet cooling fans
Cons
The straps could be a bit longer
4. Sotion Vibrating Back Massager
The Sotion car seat back massager is a multi-purpose seat cushion that can give you a cozy massage, as well as keep you cool in summer and warm in winter.
It has various unique features, including being able to fit most cars, comes equipped with an overheat protection device, has 2 vibration motors, has a breathable PU coolin seat cushion, and can warm your body within 2 to 3 minutes.
Features
It is designed to fit most cars that are equipped with a 12V cigarette lighter.
It is safe and user-friendly. It comes equipped with an overheat protection device to prevent scorching of the skin. The manufacturer says it will automatically shut off when it reaches 60-degrees and heat up again when it reaches below 30-degrees.
It is easy to install. All you have to do is fasten the buckle around the back of the headrest, insert the plastuc clips into the gap between the back and seat, and fix hooks under the seat.
The package includes 1 cigarette lighter adaptor, and one heated car seat cushion.
Pros
Has a variable cadence on the massage function
Made of quality materials
Cons
No AC adaptor is provided for home or office use
5. Comfier Car Back Massager with Heat
Comfier says it is committed to developing massage products such as massage mats, massage cushions, neck massagers, foot massagers, and back massagers.
The Comfier car massager comes with a ton of unique features. For one, you can use it whether in your car, in the office, or at home. Secondly, it is made of high-quality 3-D mesh cloth, non-slip rubber bottom, strap fasteners, and an exquisite hemming. Thirdly, it provides a comfortable driving during the hot summer days thanks to a fan that helps absorb body heat.
Also, this car massager has a massage function that can be turned ON or OFF independently of the COOL function. And last but not least, it has a simple control panel where you can turn ON and OFF the different elements.
Features
Features a non-slip rubber bottom to help keep the seat cooler in place.
It offers a ventilated layer between your vehicle vinyl or leather and your body thanks to a breathable 3D mesh.
Features two powerful vibration massage motors to help relieve any tension or pain you may be having after a long journey.
It has two speeds for cooling to help reduce perspiration by absorbing body heat.
The package includes 5 items: one packing box, a user manual, one car adaptor, one home adaptor, and one vibration car cushion with cool air.
Pros
The cooling fan circulates your vehicles air conditioning into the seat
Can fit in an office chair, home chair, and, of course, a car seat
Is comfortable and quiet at the same time
Cons
The vibration intensity isn't adjustable
6. Sotion Vibrating Car Seat Heater and Massager
The Sotion car seat heater and massager can help provide you and your family a relaxing massage on thighs, waist, back, and shoulders, effectively alleviating soreness, stress, or fatigue.
What's more, you can use it in the office, in the comfort of your home, or in your car. It is without a doubt a perfect gift for anyone.
It comes with various unique features, including 4 selective massage points, 3 vibrating massage speeds, and 5 vibrating modes.
Features
The package includes five items: a packing box, a user manual, a car adaptor, a UL home adaptor, and a vibrating back massage cushion.
Pros
Heat and massaging function are independent of each other
It can be customised according to different models and speeds
There are 5 kinds of vibration modes
Doesn't slide thanks to plastic hooks and elastric straps
It is made of high-quality fabric
Cons
Doesn't vibrate intensily as some may like
7. HoMedics Comfortable Car Massager
The HoMedics car massager is designed to you a full back massage just by sitting in your chair. The cushion is designed with the curves of your body in mind for a wholesome and invigorating massage.
Some of the cool features this car massager has includes two adaptors for your home and car, a variable two-speed intensity, three customizable body zone controls, and a soothing heat option.
Features
Comes with intergrated controls. These allow you to control the heat option to a desirable setting. The three massage zones also allow for a customizable massage to fit your nees.
The cushion is comfortable and high quality. What's more, it is portable and you can use it while on the road, while working on your office, or while at home reading your favorite novel.
The heat and vibration options can work together or independently of each other.
The cushion has five motors that are designed to melt away all the stress, tension and pain.
Pros
Integrated controls are simply and easy to use
The fabric is of high quality
Shuts off on its own after a reasonable length of time to avoid scorching the skin
Cons
The butt part may use some extra cushion
Benefits of using a car massager
Getting massages every now and then has plenty of mental and physical benefits. And while there is an option of visiting a spa center, a car massager is without a doubt more convenient. Plus, it's affordable as it's something that you buy once.
That said, does this mean that a car massager is going to give you the same level of relaxation and attention as a trained therapist? Of course not! But can it still offer you various health benefits? Absolutely! They include:
Muscle pain relief: Unlike a regular massage that is primarily meant to relax someone, a car massager kneads deep into muscles, efficiently and effectively relieving muscle tension and pain.
Lowers Stress Levels: A car seat massager can also help lower the amount of cortisol hormone being released into your bloodstream. That's because you are able to relax by getting a warm, comfortable and relaxing massage.
Boost mood levels: During a relaxing massage, your body releases what medical dosctors call endorphins. Endophins help increase mood by reducing the perception of stress and pain.
Better blood circulation: This is perhaps one of the more known benefits of a massage. What's more, better blood circulation leads to better nutrients absorption into organs and tissues.
What to consider when buying a car massager
Choosing the right car massager requires due diligence. But lucky for you, we've done all the work for you so that you may be able to get your money's worth.
The following are some of the major features you need to consider when choosing one.
Portability
Are you looking to buy a device that you'll be able to use anywhere, be it at home, in your office, or while driving? If so, then you need to pay attention to its design. Basically, the more lightweight it is, the better. You also want to ensure that it has adaptors to fit the different uses.
Heat Function
Some car massagers have both heat and massaging functions while others only have one. Although the heating function on its own will still help you lower your stress levels, it tends to work better when coupled together with a massaging function.
When combined, that's when you can truly have an out-of-this-world experience. This is always welcome, especially after a long day of work.
Massage Type
Most car massagers come with different massaging modes. While each type of massage certainly has its benefits, some types are better suited to particular issues. Some have a simple vibration that is only meant to provide relief to sore muscles and relieve stress. Others, however, have a stronger vibration that is meant to boost energy levels, improve blood circulation, and get rid of pain in certain areas.
Key Takeaway
So, which is the best car massage chair? Well, our top pick is none other than Sotion car massager. It not only offers a smorgasbord of functions, but it is also convenient, yet poweful.
Other Options Worth Considering
Sale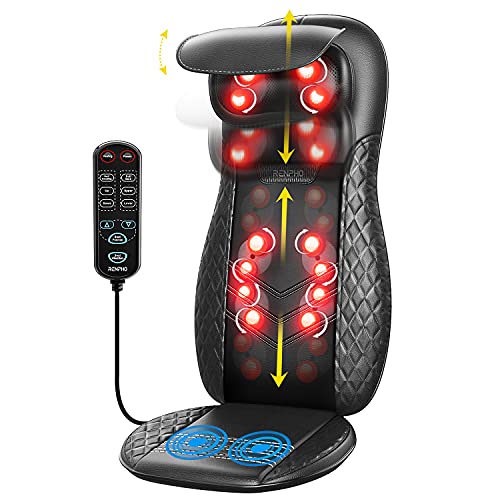 RENPHO Back Massager with Heat, Chair Massage Pad, Shiatsu and…
Adjustable neck massage chair pad – Equipped with a massage pillow that fits perfectly behind your neck and…
Full body back massage with heat – 8 deep kneading & shiatsu back massage nodes travel up and down to relax your…
Soothing heat & seat vibration – Warmth applied on the neck and back helps to relax tense muscles across your…
$189.99 $135.99
Buy on Amazon
Sale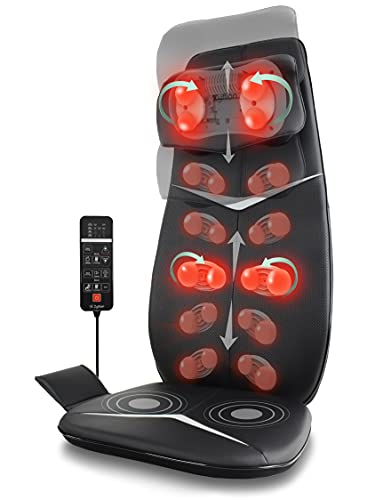 Zyllion Shiatsu Neck and Back Massager – 3D Kneading Deep Tissue…
????-?????????? ???? ????????: unlike…
????-???????? & ?????????: the remote is easy to…
???????? ???? ???????? & ????…
$269.95 $199.95
Buy on Amazon
Sale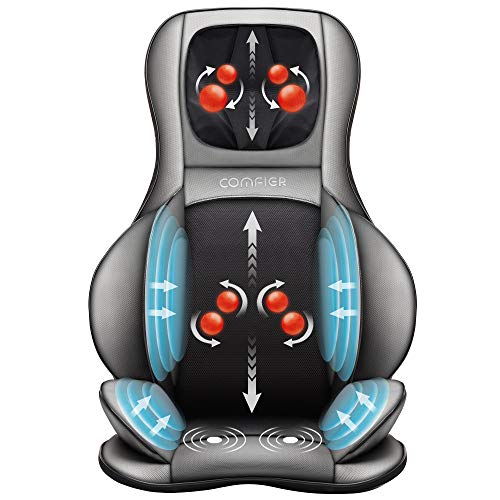 COMFIER Shiatsu Neck & Back Massager – 2D/3D Kneading Full Back…
Relax Full Body – The massage chair utilizes innovative 2D/3D Finger Pressure Shiatsu, Rolling, compression,…
Creative 2D/3D Shiatsu Massage – The Shiastu Neck & Back Massager with Heat, it has 4 rotation nodes to provide…
Adjustable Rolling & Spot Massage – The chair massager features soft rolling massage along the back spine combats…
$239.99 $199.88
Buy on Amazon
Last update on 2023-01-21 / Affiliate links / Images from Amazon Product Advertising API