Best Phone Stand For Cars 2020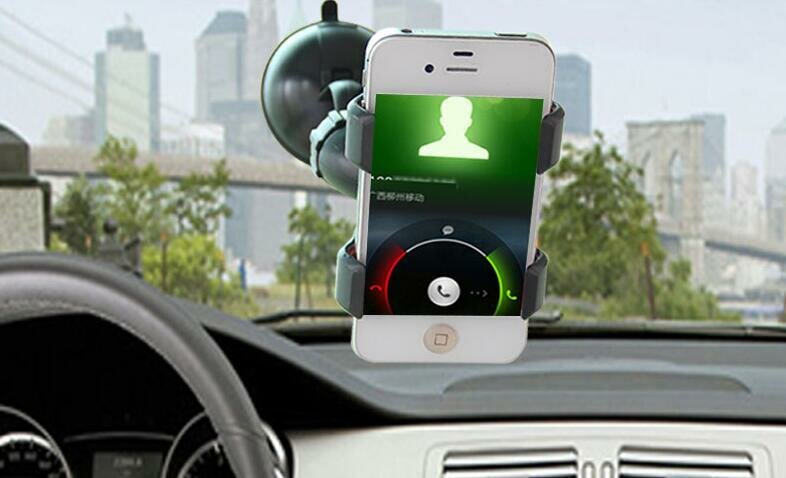 Nowadays, it's always a good idea to stay connected with your smartphone irrespective of the task at hand, including even driving.
But here's the problem: it becomes a safety concern for you and your passengers whenever you have to check you phone for GPS, texts, emergency calls etc., as this can obviously distract your concentration on the road.
Luckily, there's a solution. Because, below, we've reviewed the best phone stands for cars. The right one will allow you to keep your hands on the wheel, and at the same time allow you to check on those important messages, emergency calls, GPS and whatnot, without compromising much on safety.
Smartphone holders provide for a clever way of positioning your phone on areas that are convenient for you such as on the dashboard, windshield or even the air vents. They vary in their usability as some act as magnets, others stick on the windshield, and others coil.
So, without further ado, let's jump straight in to the review and help you find the best one:
Best Phone Stand for Cars
1. WizGear Universal Dashboard Phone Holder
The WizGear Universal dashboard phone holder has been in the market for quite a considerable amount of time and therefore comes about as an already successful and established product.
Differentiating it from other smartphone holders is probably its reinforced magnetic feature. It is what makes this smartphone holder able to hold onto any phone perfectly thanks to the intensive force of attraction provided by the magnet holder. It is able to hold any smartphones including iPhones, HTC, Samsung, Microsoft, Blackberry, Apple, and all other Android devices.
Features
A functional and unique high quality rubber construction at the base – helps keep your phone in place even in road vibrations/impacts.
Ability to swivel your display and rotate your smartphone as you please. Regardless of how often you rotate your phone, the base of the mount always remains steady.
It can work on any smartphone it is attached to thanks to the complementary design of the magnetic mount.
Comes with metal magnetic plates that make it possible for your phone to snap on it quickly.
Pros
Has been tried and tested in the market, its versatile as it works on any smartphone
No much effort is required to install it other than just pushing it on your air vent
Cons
Harsh driving conditions can make it swing about
2. Mpow Car Dash Phone Holder
The Mpow dash phone holder for cars is intended for those looking for a car smartphone holder that gets the job done and keeps the distractions away while driving. From the manufacturer's description, this device is a universal car mount specially meant for smartphones ranging from iPhone 7/7Plus/6s/6 Plus/5s to Huawei, Samsung, Google Nexus, and others.
Key Features
Has a powerful magnetic head and a sturdy rubber base. It's easier to use than some others because of its simple and complementary design that has only two elements. And better yet, here's an instant replacement if for whatever reason one needs changing.
Solid build quality on the base ensures a sturdy grip on the smartphone even in mundane driving conditions.
You don't require a clamp, bracket, or a cradle. Just needs the holder to be pushed on the air vent and your phone or mini tablet is good to go.
This magnetic mount is able to hold most smartphones in the market today thanks to its reinforced magnetic feature.
Pros
Is easy to install as only two elements are needed for a complete setup
There's 1 backup for instant replacement
There's 45 day money guarantee and 18-month worry-free guarantee included
Cons
Only Black color is available
3. Aukey Magnetic Phone Stand For Car
The Aukey Magnetic phone holder is among the best cell phone holder for cars. It is an accessory intended to be used as a smartphone holder in your car in order to help reduce distractions on the road. It is stylish and you have two sizes to choose from.
Unlike the rest, this universal magnetic phone mount is colorful and clearly distinguishes itself from all the plain black metal mounts available on the market. Furthermore, it can also be used not only in your car but can also be used as a night stand and charging dock mount for iPhones and Android phones.
Features
It is one of the best universal car holder on the market today that can hold an iPhone Plus, Galaxy Note, Mini iPad, Samsung Tablet whether in the office or at home.
Easy to install and move about thanks to its universal smartphone compatibility feature
Enables one to install a smartphone on any flat surface in a horizontal position. This, again, can be done whether you're in a kitchen preparing a meal, or in the bedroom taking a nap.
Designed to last – 100% steel. In addition, the car mounts are of great design that differentiate them from the rest
The manufacturers are so confident in their product so much so that they guarantee 100% refund and 2 years warranty.
Pros
Stylish and colorful
They offer 100% refund with No-Questions-Asked
It can be used for a variety of different ways
Cons
The company should create additional designs
4. Nite Ize Original Steelie Pedestal Kit For Smartphones
The Nite Ize – Steelie Pedestal Kit offers a great way for anyone to dock and re-dock their smartphones on cars' dashboards, kitchen countertops, desks, nightstands, floors, or airline tray tables thanks to its clean design and strong magnetic composition.
The Nite Ize Original Steelie Pedestal Kit ranks among the best phone stand for cars available on the market today thanks to its 'simple way to hold technology' design mantra.
Included in the kit is one Steelie Tabletop Stand, 3M VHB adhesive foam tape and an alcohol prep pad, and one Steelie Magnetic Phone Socket. A copy of the installation manual is also included alongside.
Features
The setup provides a simple, convenient, and versatile way to dock your smartphone on countertops, desks, floors, nightstands, or tables.
Made from high quality aluminum metal that guarantees a long lifespan.
The Steelie Tabletop stand can be placed wherever you need your phone to be as the circular magnet on its head has a powerful magnet that sturdily grips the back of your smartphone.
The adhesive used – 3M VHB, is a powerful foam tape that makes the bond between your phone and the circular magnet as strong as can be. And even with its powerful adhesive feature, the adhesive still gets off easily when you don't need the mount.
Pros
Offers a strong build quality, can be used in multiple ways,
Set-up is a snap
Cons
No guarantee is offered from the manufacturer
5. Mpow Smartphone Stand for Car
This Mpow smartphone dash mount is a great option for people who've had previous car mounts fall due to gravity. Having a steeply raked windshield may pose challenges to users as most smartphone mounts have not been designed to offer a sturdy support.
This problem is easily solved by this smartphone holder thanks to its ingenious design that takes the worry of having your phone fall off away. Every product comes with the following elements – a windshield flex mount, universal holder, and an adhesive stabilizer.
Features
The Mpow Cell Phone Holder comes with a long arm supported by a strong base. Measuring 8 inches long, the long arm stretches easily to be where it is needed. Also, it is made of aluminum which ensures that it is strong and durable.
Easy installation. It only requires a one push-button fixation design. Removal is also as easy, and no residue is left behind when removed.
The smartphone holder is made in such a design that allows its use on various smartphone designs, such as those from iPhone 7/6s/6, HTS, Google Nexus, etc.
360 degrees rotation. This allows users to place their phone in whatever designs they wish.
Lastly, the phone dash mount comes with an extra suction cup for increased stability and security. The stability ensures that your phone remains in place even in mundane driving conditions.
Pros
Has a long arm
Set-up is squick
Cons
No other designs are offered
6. Ipow Diagonal Dashboard Phone Holder
The Ipow Diagonal dashboard phone holder allows users to mount their devices more steadily and securely. It comes with a new compatibility feature that fits devices with 6 inches in diagonal screen size including Iphone 6s plus and Samsung Galaxy Edge S7.
Users no longer have to worry about driving in harsh conditions as the Ipow Diagonal Clamp features a new diagonal design clamp that provides that extra grip.
Features
360 degree rotation capability. Your cell phone is able to rotate all round thanks to the swivel ball head joint.
Can stick securely to most surfaces because it comes with a strong suction cup, yet can also be easily removed when no longer needed.
No tools required during its installation and is as easy to install as it it's easy to use. And you don't need to worry even on most rugged of roads.
It can mount on both the windshield and dashboard thanks to its new mounting technology. It'll hold most GPS, smartphones, and even MP3 players wherever they're needed.
Only two elements are included in the package: a Goose Arm Suction Cup and a Cellphone Holder Cup.
Pros
Can hold larger devices
Can be used on the dashboard as well as the windscreen
Cons
They seem to be not offering warranty on the amazon.com sales page but this can easily be resolved by contacting the manufacturer
7. iOttie Easy Smartphone Stand For Car
The iOttie Easy One Touch 2 car smartphone stand for car is perhaps one of the most used product on its category today. It boasts of a whopping 13,000+ reviews and counting, and that alone should be enough to convince you on how good it is if not the best.
It ranks as one of the best smartphone mounts for cars thanks to its versatility in terms of how it functions. It comes jam-packed with standard features just like its predecessors before it – Easy One Touch, Easy One Touch XL, and the Easy One Touch 2.
The iOttie Easy One Touch 2 includes the iOttie super sticky gel pad and the touch locking feature both of which are patented. While not recommended for use on leather/vinyl dashboards, the product works well on other surfaces thanks to its super sticky gel.
Features
Adjustable viewing angles. Users can get optimal viewing capabilities thanks to the iOttie Easy One Touch 2 adjustable viewing angles that are made possible by the pivoting arm
Compatible on most devices. Any smartphone device with a height ranging between 2.3 to 3.2" can be mounted
Users have better view with the Easy One Touch 2 smartphone mount thanks to the long telescopic arm that gives better viewing angles
There's also the optional dashboard pad that offers even better mounting on curved and textured surfaces. More possibilities are offered with the Dashboard Pad but you have to buy it as a separate product.
Pros
Has a whopping number of reviews that work to its advantage
Compatible with most devices
Offers 360 degree viewing angle
Has a long adjustable telescopic arm
One year warranty
Cons
8. Beam Electronics Universal Smartphone Holder for Car
Beam Eletcronics is a well known manufacturer of car accessories, and this phone dash mount certainly won't dissapoint you. The following are the features it comes with:
Quick Release Button: It features a press release button behind it that has arms that you can press whenever looking to clamp or take out your smartphone.
360-degree Rotation: Whether charging, listening to music, navigating, or talking, you can rest assured that this smartphone holder will give you the best viewing angle.
Broad Compatibility: This phone stand is compatible with a huge variety of cellphones – Samsung Galaxy s6, iPhone 6s Plus, 6s, 5s, 5c, iPhone 7, 7 plus, LG, HTC, Nexus, Nokia, or even your gps device.
Pros
Stylish and colorful
They offer a 1 year warranty
It can be used for a mariad of smartphones
You can use it for both vertical and horizontal vents
Offers eye-level safe viewing
Cons
Not compatible with the Pixel 5 smartphone
9. FayTun Universal Phone Stand for Your Car
The FayTun Universal Car Mount is specifically intended for smartphone devices only. Just like most of the devices described above, this cell phone mount works perfectly on any smartphone device such as popular ones like iPhone, Samsung Galaxy, OnePlus 3 2 X, LG 5 4 3 V10 V20, and Google Pixel Pixel XL Nexus 6 6P 5X 5.
Features
360 degree rotation. You can turn the smartphone up and down as you please. And no matter how much you get it turned, the phone remains sturdy and secure in place.
Gel pad used to attach your phone and the mount is extremely sticky and yet can be removed as easily.
You can always count on this smartphone holder even on rough roads that send vibrations to the cabin thanks to solid gripping from three sides.
One press lock and release feature that makes installation a snap
Works perfectly on smartphones width of between 3.5" and 6.5".
Pros
Great customer reviews
Quick install
Cons
10. Logitech Trip One-Touch Magentic Phone Dash Mount
The Logitech Trip One-Touch smartphone dash mount keeps your eyes trained on the road while still making sure you don't lose out on calls, texts, music streaming, Gps, etc. It mounts any smartphone to the air vent of any vehicle with just one quick installation.
Regardless of the smartphone, this magnetic smartphone mount makes it easy for them to be attached on the air vent.
Features
Compact and ergonomic design. The design is stylish yet can even pass unnoticed due to its small footprint.
Ranks as one of the best magnetic phone car mount because of its effortless motion that ensures your smartphone is rightly mounted.
One-touch installation. Requires no space engineer to unravel any mysteries about the best way to install it. It's just as simple as the image above appears, no complicated stuff.
The design is discreetly compact as it only makes a small footprint on your air vents.
Pros
Has a tiny footprint
Magnet is extremely strong
Connects with virtually any smartphone
Warranty and support can be requested
Cons
Additional stylish designs should've been offered
3 Crucial Things to Consider When Buying a Phone Dash Mount
When choosing a phone dash mount, you will need to consider the following important things.
1. The interior of your car.
Your car's interior will be the deciding factor on what type of phone mount you should buy. If your dashboard's surface is not even, using it as an achoring point for a sunction cup might prove inneffective.
If the windshield of your car rises steeply from the dash, installing a smartphone holder may also not work.
Finally, if you have round air vents, or have blades that are thin, then the phone holder you place there might not be particularly secure.
It's for the reasons aforementioned that you should first know your car before choosing a phone holder. If still in doubt, then consider reading up some customer reviews before making the purchase.
2. The size and weight of your Smartphone.
The size and weight of your smartphone will also affect which phone stand you pick. If you have a large phone, then you'd want to choose a magnetic phone phone stand as opposed to a craddle, for example. Most smartphone manufacturers will specifify what type of phones are compatible with their products.
3. Angle at which you want to use it.
It is usually a good idea to choose a mount that is versatile. That is, can accomodate your cell phone in both portrait and landscape configurations.
4 Benefits of Using a Phone Stand for Car
The following are the key benefits of using a phone stand for car.
>Allows you to safely take full control of your car's entertainment system.
>Lets you make calls without the need to install other hardware.
>Let's you use it for your navigational needs safely while driving.
>Secures the phone in place and prevents it from falling into an unsafe position.
4 Types of Smartphone Holders
Smartphone holders can be categorised into four main categories.
1. CD Slot Mounts.
These can be wedged into your car's stereo system. This position is not only the most secure but is also one that will not obstruct your view of the road while you're behind the wheel. That said, installing them is always not easy.
2. Adhesive mounts
Unlike dash- and windscreen mounted holders, this smartphone holder is a bit rare. It works by sticking to any flat surface in your auto. Their installation is probably the esiest. However, as they are designed to stay put for the long hault, removing them can be difficult.
3. Windhshield or Dashboard phone holder
These are designed to mounted on either the car's windshield or dashboard. Their installation can be tricky, and you may find some sunction cups to be stronger than others.
They are, however, the most versatile of the smartphone holders, providing you the option to either install them on the windshield or the dashboard.
4. Air Vent Phone Holders
As you can probably guess, these are meant to be attached on the air vents of your car. They are particularly common, and usually work best with rectangular or square vents as opposed to round ones.
With your smartphone in this position, you'll not only have a clear view of the road ahead, but you also won't run the risk of overheating your mobile phone when the heater is working.
Key Takeaway
Overall, we believe that the WizGear Universal Air Vent – the first option on our list – is the best phone stand for car. First and foremost, it is easy to use. You only need to enter your mount in the air vent, give it a gentle push, and then attach your cell phone.
Here's what one user had to say after using it:
"This is perfect – does exactly what it should! The magnets are very strong doo no worries about my phone commit off while I'm driving. I can use it with my S8 (with a thin soft gel case) without the need for the included metal plates, which means I can still charge my phone wirelessly without having to mess around removing the plate from the case each time."